The Medina County Fiber Network is a great solution for businesses who want faster and more reliable internet and phone connection. Many companies have already made the change, and they're delighted with their decision.
Here is what TGC Engineering, a group of civil engineers and surveyors, have to say about their decision to move to the Medina County Fiber Network.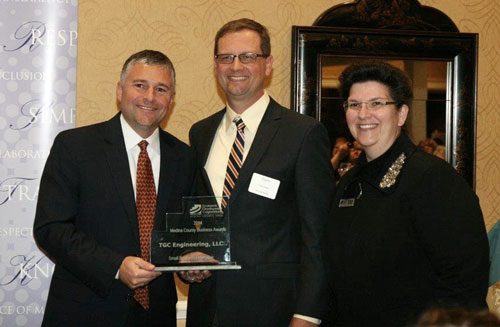 Were you experiencing any issues with your prior network?
"The biggest problem we had was considerably low speeds. It became a real problem for employees especially because we used VOIP (Internet-based phone service) and the call quality made it extremely hard to function from a business standpoint."
What had you heard about the Medina County Fiber Network prior to becoming a customer? 
"We had actually looked into several different providers back when we moved to this location in 2013, and the fiber network was an option, but we ultimately went with someone else.
After the [Medina County Fiber] network was opened to carriers, the cost was far more competitive, and we jumped at the chance to have it because we knew the benefits of fiber working with several different phone companies."  
What aspects of the fiber network were most attractive to you?
"Because of our business, we know the benefits of fiber vs. coaxial cable. Aside from the benefits, probably the comparable cost to other providers was most attractive. There might have been a small monthly savings now, but our speeds have increased 5-6X."
When you made the change – did you hear any feedback from employees about the new internet service?
"In situations like this, no feedback is the best feedback. People don't notice when things are going well. So more than anything it was that the negative employee comments stopped when we switched which was a great thing. It allowed people to do their jobs without any kind of struggle and helped productivity."
How long did the transition process take once you decided to make the switch?
"It was a pretty easy process considering they had to run cable to our building. I think it was about a month or two from deciding we were going to go with the Medina County Fiber Network until it was up and running in our building."  
Would you recommend the Medina County Fiber Network to other local business owners? 
"We would absolutely recommend it to other businesses. The cost, quality and speed are right for our business and would be for many others who are willing to make a change if they experience the same pains we did."
Are you ready to learn more about the benefits of the Medina County Fiber Network and how it can benefit your business? If so, contact us.